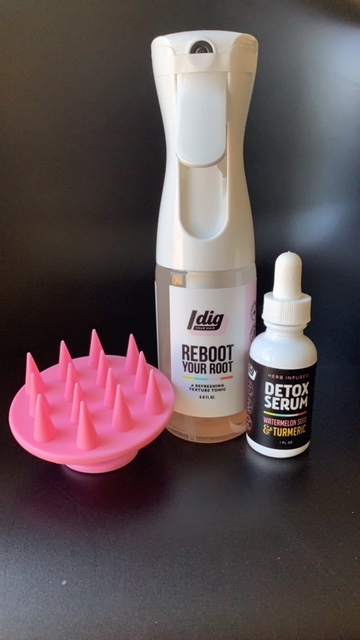 Shop
DETOX and REBOOT your scalp
DETOX SERUM:
DISSOLVES SEBUM, SOOTHES INFLAMATION, HEALS, REGENERATES, DETOXES IMPURITIES AND BUILD UP WHILE CREATING AN UNFAVORABLE ENVIRONMENT FOR IMBALANCE.
USE: Anytime, Anywhere Skin and Hair!
INGREDIENTS: Watermelon seed oil, unfiltered Avocado oil, Pau d' Arco, Witch Hazel bark, Ginger root, Goldenseal root, Yucca root, crushed Rose hips, Frankincense tears, Vanilla absolute, Turmeric and Yuzzu essential oils.
** All ingredients are Certified Organic or wild harvested, non GMO & cold pressed**
100! SILICONE SCRUBBER that you can sanitize and use for multiple people or your pooch!
REBOOT your ROOT: Benefits all textures!
Refresh, hydrate & balance your scalp while adding light texture and volume.
Use as a better alternative to dry shampoos or texture sprays, and as a foundation for products.
Proprietary Formula: Organic: fractionally distilled Aloe Vera, Witch Hazel, Himalayan salt, essential oils of Rosemary, Palma Rosa & Geranium